Hands of His Mercy
Hands of His Mercy is committed to caring for the single moms and widows at Calvary as well as performing home repairs for the poor in the community and for those affected by natural disasters. This ministry is a visible and practical expression of God's love for those who have been affected by natural disasters and for the poor in the community.
Ministry Leader
Pastor Ed Grant
Serving Where There is Need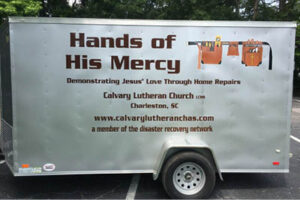 Members of Calvary go on one-week, quarterly trips to help communities in need. They have served in both North and South Carolina following natural disasters.
In addition, volunteers perform home repairs for those in need in the local community on a regular basis. If you would like to help, contact Pastor Grant or the church office for more information or watch for announcements in church about upcoming projects.
Hands of His Mercy Photo Gallery
April 17, 2021
Hands of His Mercy volunteers visited the

home of Pernel Williams, a dear Christian sister who suffered a stroke a few years back and is disabled. She lives with her disabled sister. They installed a new bathroom sink and vanity, painted two upstairs bedroom and two hallways, pressure washed the house and replaced a glass pane in a window. There is more work to be done and Hands of His Mercy plans to return at a future date.
February 20, 2021
Hands of His Mercy volunteers visited a home in North Charleston to complete repairs to the ceiling, back stair handrails, windows and more.