Serving Others in Ministry

Music Ministry
Music is an important part of our worship services at Calvary when our voices burst forth with songs of praise. We are fortunate to have many talented musicians and singers to contribute in this ministry.

Women's Ministry
JOY Fellowship, our women's ministry, encourages women to grow in their love for Jesus and each other. JOY Fellowship regularly meets on the fourth Sunday of the month at 5:00 p.m. and includes fellowship, food, and prayer.

Men's Ministry
The Men's Fellowship at Calvary is dedicated to supporting the church vision to "Be a bridge connecting people to Jesus, His family and His ministry," The Men's Group usually meets the fourth Sunday of the month at 5 p.m.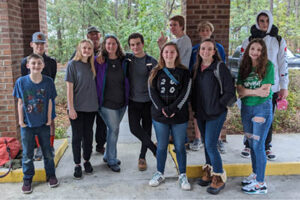 Youth Ministry
If you are in sixth through twelfth grade, become a part of Calvary's vibrant youth group! The group meets monthly from September to May and bimonthly from June to August for fellowship, Bible study, and community. There are also much-loved annual events and retreats to connect on a deeper level with one another and with Jesus.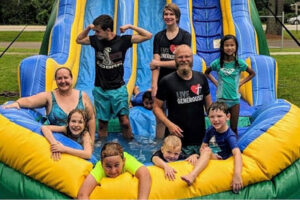 Kids for Christ
Kids for Christ is our junior youth group for first to fifth graders. Kids for Christ meets once per month (typically the second Sunday of the month) for fun family events or to perform service projects. Parents of the children are encouraged to attend.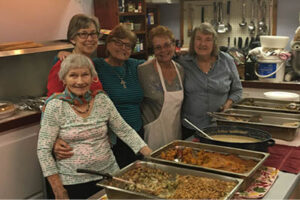 Friends of Bartimaeus
Friends of Bartimaeus, Calvary's ministry to the blind community of the Lowcountry, meets the last Friday of each month at 6:00 p.m. to offer the blind and visually impaired a delicious home-cooked meal. The meal includes fellowship, worship, mail reading and prayer. As guests leave at the end of the evening, each client is given two bags of groceries to take with them.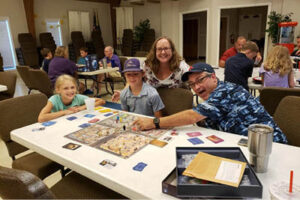 Game Night
Game Night is a great opportunity for families and individuals to come together for an exciting night of fun and games! Bring your favorite board or card games. Bring your favorite people. We'll provide the popcorn and soft drinks. Game Night is typically the second Friday of every month from 6:30-9:00 p.m.
Guatemala Mission
Every summer, for over 17 years, Calvary has partnered with the mission organization Food for the Hungry International to visit and support the indigenous people of Guatemala. Each year a small team from Calvary has the opportunity to work in poor communities of Guatemala by holding Bible classes with children, building homes and schools, digging latrines, and breaking rocks for roads.
Calvary Crafters
Calvary Crafters meets every Thursday morning from 10:00 a.m. until noon to create amazing crafts for Operation Christmas Child shoe boxes. Operation Christmas Child, a ministry of Samaritan's Purse, delivers shoe boxes filled with crafts, toys, and candy to children all around the world who may not receive a Christmas gift otherwise. Calvary Crafters puts together 100 shoe boxes each year.